Eurode Honorary Medal for Werner Janssen
On December 7, 2017, our chairman Werner Janssen received the honorary medal of the Zweckverband Eurode.
In this context, we invite you to a drink on Sunday, February 4, after the first OPRHEO CONCERT (beginning at 3 pm in the Aula Minor, Rolduc).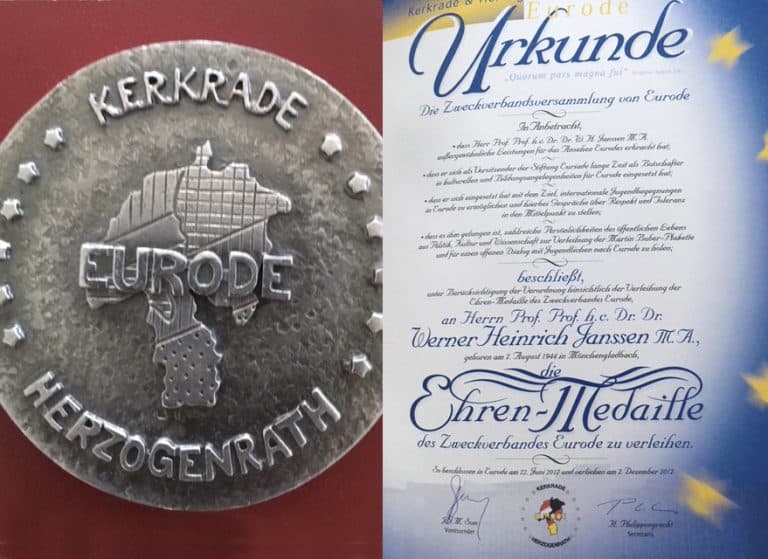 Urkunde
Die Zweckverbandsversammlung von Eurode
In Anbetracht,
dass Herr W.H. Janssen außergewöhnliche Leistungen für das Ansehen Eurodes erbracht hat;
dass er sich als Vorsitzender der Stiftung Euriade lange Zeit als Botschafter in kulturellen und Bildungsangelegenheiten für Eurode eingesetzt hat;
dass er sich eingesetzt hat mit dem Ziel, internationale Jugendbegegnungen in Eurode zu ermöglichen und hierbei Gespräche über Respekt und Toleranz in den Mittelpunkt zu stellen;
dass es ihm gelungen ist, zahlreiche Persönlichkeiten des öffentlichen Lebens aus Politik, Kultur und Wissenschaft zur Verleihung der Martin Buber-Plakette und für einen offenen Dialog mit Jugendlichen nach Eurode zu holen;
——————
beschließt,
unter Berücksichtigung der Verordnung hinsichtlich der Verleihung der Ehren-Medaille des Zweckverbandes Eurode,
an Herrn
Prof.  Prof. h.c. Dr. Dr. Werner Heinrich Janssen M.A.,
geboren am 7. August 1944 in Mönchengladbach,
die
Ehren-Medaille
des Zweckverbandes Eurode zu verleihen.
————-
So beschlossen in Eurode am 22. Juni 2017
und verliehen
am 7. Dezember 2017
  J.J.M. Som                                                                                 H. Philippengracht
Vorsitzender                                                                                       Secretaris